All-Inclusive Multi-Generational Dude and Guest Ranches – FUN for Everyone
When it comes to making every member of a family happy at your next family reunion, there is no better place to go than a Dude Ranch.
Family Reunions at Dude Ranches Offer Fun for Everyone
There is literally something for everyone to enjoy at a dude ranch and the best part is DRA dude ranches are ALL INCLUSIVE! Meals, lodging, horseback riding and much more are included in one rate, making it simple to plan and budget for your next family reunion.
All of our Dude Ranches are well equipped to make sure everyone has a fun western experience!
Dude Ranches Are Fun for Kids
Most ranches have daily activities offered for kiddos 3+ and many ranches can accommodate infants as well.
Teens Enjoy Dude Ranch Adventures
The teens in the family will have the time of their lives as they zip down a mountain zip line, tube down a rushing creek, or enjoy a 'teens only' ride up to a cookout lunch on the trail or an overnight campout.
Adults Have Fun, Too
Adults will find they can do as much or as little as they would like. Unlimited horseback riding, river rafting, superb fishing, fine dining the list goes on and on. So what are you waiting for? Come make memories that will last a life time at one of these GREAT DRA dude ranches.
Dude Ranches Offering a Great Experience for Family Reunions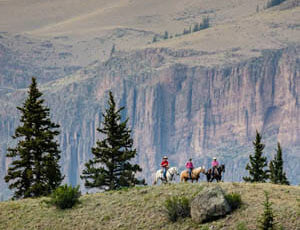 Creede, Colorado
Guest Capacity: 45
Open: June - September