California conjures images of sun-kissed beaches, foggy San Francisco Bay, and giant redwood forests. The diversity of the state is unmatched by any other in the nation. It produces entertainment in Hollywood and cutting edge technology in Silicone Valley.
One-third of the nation's food is grown in the Central Valley, and some of the best wines in the world flow from Napa Valley vineyards. The lowest point on the continent is found in California's Death Valley, less than 100 miles from the highest point in the lower 48 – Mount Whitney (14,505 feet).
A state of extremes, California evokes the essence of the American dream more than any other place in the country, with the possible exception of New York City. The lengthy California coast stretches from Oregon to Baja California, Mexico. Sandy beaches and rocky cliffs dot the coast, and coastal mountains separate it from the Central Valleys.
Such varied geography translates into enormous possibilities for outdoor recreation. Dude ranch vacations in the state of California may include fly fishing, river rafting, and panning for gold. Guests may explore the land on bikes, watch birds, or rock climb. In addition, California dude ranches offer their guests an authentic ranch experience. Guests may ride over grasslands and along mountain trails morning, afternoon, and at sunset. They may even participate in cattle round-ups and cattle drives, just like true cowboys. Live the dream. Vacation at a California dude ranch!
Ranches in California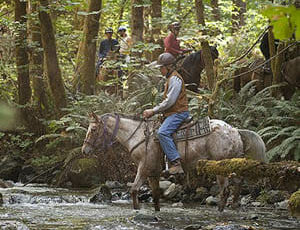 Somes Bar, California
Guest Capacity: 24
Open: June - September