Lazy L&B Ranch

| Dubois, Wyoming
Minimum: $312
Maximum: $350
Email: Ranch@lazylb.com
Phone: +1 800-453-9488 +1 307-455-2839
Location:

Dubois, Wyoming

Closest Airport: Jackson Hole (JAC) 97 miles, Riverton (RIW) 74 miles
Elevation: 7000 feet
Guest Capacity: 35
Open: May 31 - September 12
Check In/Out: 1:00 pm Sunday - 9:00 am Saturday
Check Availability
About Lazy L&B Ranch
We want to welcome you to the Lazy L&B Ranch. We are a family owned and operated ranch that has superb riding through some of the most diverse country imaginable. A place where you'll create memories that last a lifetime.
The ranch sits in a really unique setting. We're nestled in a lush green cottonwood river bottom, surrounded by 80,000 acres of wildlife habitat, high alpine country, desert painted plateaus, sand wash canyons and dramatic rugged river gorges.
Our western cabins and the historical lodge are simple and comfortable. Enjoy an early morning cup of coffee around the fireplace that was built when the land was originally homesteaded or head to the corrals to groom and saddle your own horse before enjoying a hearty breakfast.
Our ranch is known for its extensive horseback riding but we're flexible. Riding groups are never more than six people of similar ability. For those that want trotting and loping we cover some of the most diverse country around but we also cover a lot of ground with easy walking rides along the river.
Children six and older can participate in our horse program.They ride with other kids of similar age with our experienced wranglers.
The anglers in your group will be happy to know that the East Fork runs through our property. If you want to up your odds of hooking the big one then there are several other rivers in close proximity that provide excellent fishing.
Enjoy the ranch pool, soak in the Jaccuzi along the river or hang out in the late afternoon sun on the cabin porches while recalling the day. The Lazy L&B Ranch gives you the opportunity to truly relax and treat yourself to an unforgettable adventure.
Ranch Dining:
All meals are included during your stay. We make every effort to accommodate dietary restrictions. Just let us know what works for you. Every meal is homemade, fresh and delicious.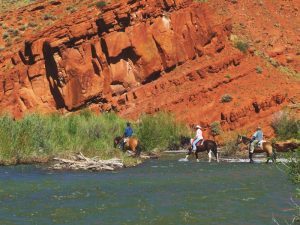 Ranch Activities:
We ride some of the most diverse terrain imaginable and every ride is completely different. Aside from the riding program kids love the petting zoo, the tree house and the freedom to go wherever they want, whenever they want. Square dancing in Dubois is a hoot and you're also welcome to participate in the local rodeo. You can do as much or as little as you want. We're here to make your vacation what you want it to be.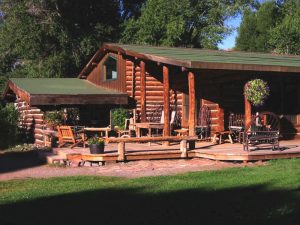 Ranch Lodging:
Our cabins are clean, simple and comfortable. The lodge has a cozy fireplace, library and game table where you can gather with friends and family. Grab an early cup of coffee, read a book, work on a puzzle or play a game. Maybe Butch Cassidy didn't have to answer to anyone but for those who do, Wi-Fi is available.
Lodging and Amenities:
- Horse Safety Program
- Cabins
- Internet/WiFi
- Hot tub
- Swimming pool
Activities:
- Bird Watching
- Babysitting Available
- Fishing/Guided
- Hiking
- Archery/Shooting Sports
- Childrens Program(6-8)
- Childrens Program(9-12)
- Childrens Program(13-17)
- Childrens Program(3-5)
- Dancing
- Petting Zoo
Food:
- Ranch/Western
- Special Diets Accommodated
- Gourmet
Riding:
- All day ride
- Half day rides
- Advanced/Fast rides
- Pony Rides
- Beginner rides
- Trail Riding 6+
- Trail Riding 7+
- Trail Riding 8+
- Private lessons
Dates Open:
- June
- July
- August
- September
Length of Stay:
- 4 nights
- 5 nights
- 6 nights
Specialty Events/Weeks:
- Adult Only Weeks
- Fly Fishing Retreats
- Girlfriend Getaways
- Hunting Trips
- Singles Weeks
Cancellation Policy:
Deposit is non-refundable but may be applied to a stay the following season with a $150/person re-booking fee.
Contact the ranch
Email: Ranch@lazylb.com
Phone: +1 800-453-9488 +1 307-455-2839
Location:

Dubois, Wyoming

Closest Airport: Jackson Hole (JAC) 97 miles, Riverton (RIW) 74 miles