There is much to see in New Mexico, from the wondrous Carlsbad Caverns to the Black Range Mountains and the brilliant gypsum dunes of White Sands National Monument. Culturally, New Mexico is equally diverse, with large populations of Native Americans, Mexicans, Hispanics, and European Americans. Guests of New Mexico Dude Ranches have a unique opportunity to explore the land and gain insight into the culture.
When the Spanish first explored the region in the mid-1500s, they found Pueblo, Navajo, Apache, and Ute settlements throughout the state. Over time, the Spanish and Mexicans built their own settlements on land dubbed "New Mexico" as early as 1563. Their influence on style and architecture is pervasive, but perhaps nowhere more than in Albuquerque's beautiful Old Town – a place definitely worth visiting.
There is much to see and do around the state during a New Mexico Dude Ranch vacation. Evidence of the American Old West is visible at every turn. Explore the outlaw trails of Billy the Kid, Butch Cassidy, and the Sundance Kid on horseback. Head into the canyons that sheltered the great Apache warrior Geronimo in the 1800s. Stand in forests of Ponderosa pines, and delve into the wilderness of the Black Range Mountains.
New Mexico Dude Ranches offer guests a chance to experience the cowboy life, with a bit more luxury if desired. After a day in the saddle, revel in simple luxuries such as soaking sore muscles in a hot tub or stretching out by a fire under a vast canopy of stars. Now that's a vacation.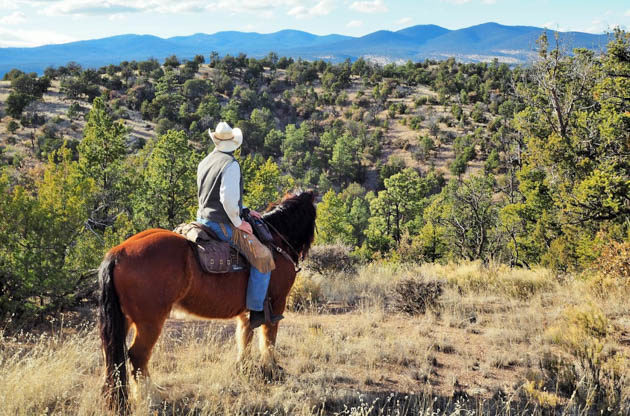 Geronimo Trail Guest Ranch
Located in the middle of the 3.3 million-acre Gila National Forest of southwest New Mexico, Geronimo Trail Guest Ranch offers a horseback riding vacation like no other. Daily trail rides will take you through the most vast and pristine wilderness areas with 500ft canyons, crystal-clear creeks, open meadows, and wooded Ponderosa Pine forests.