Idaho is comprised of rugged and beautiful terrain that stretches from British Columbia to Nevada. The Rocky Mountains cover much of the eastern border of the state, while Hell's Canyon, the deepest canyon in the country, is found along the Oregon and Washington border.
Idaho is a lovely spot for a dude ranch vacation, for the wilderness beckons. Ride through grasslands and along forested trails. Head into the mountains, follow a stream bed and spend a week as a cowboy. Everywhere there is fresh air and a beautiful natural setting, perfect for a traditional ranch vacation.
Guests of Idaho Dude Ranches may discover Idaho's beauty and diversity from the scenic byways, which lead to some of the most unique attractions in the state: Craters of the Moon National Monument, a surreal landscape of volcanic features such as lava tubes and spatter cones in Central Idaho; Curlew National Grasslands, the only National Grassland in the intermountain west; and the City of Rocks National Reserve, where pioneer inscriptions and wagon ruts are visible among tall, thin granite spires and monoliths.
Dude Ranch vacations in Idaho may include fishing, rafting, or archery. They also may include luxuries like massages or offer a more authentic and rustic cowboy experience. One thing is certain: an Idaho ranch vacation will be unforgettable.
Ranches in Idaho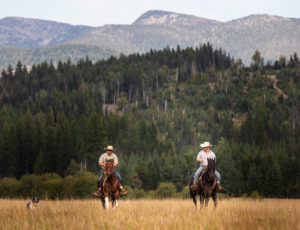 Sandpoint, Idaho
Guest Capacity: 20
Open: Year Round