The land of Arkansas is fertile and forested, with many plains, valleys, and mountains. Indeed, the state of Arkansas is home to the only major mountain ranges between the Appalachians and the Rockies: the Ozark Mountains and the Ouachita Mountains. First-time travelers to Arkansas Dude Ranches are sometimes surprised by the verdant beauty of the place.
In addition to natural beauty, Arkansas has a rich history and culture. More than 40,000 historic Native American sites are in the state, including Pre-Columbian burial mounds. Arkansas was also part of America's Wild West, for Fort Smith in the Arkansas River Valley bordered the Indian Territory until 1907. Delta blues music pervades the Mississippi Delta area in the eastern portion of the state; and Mountain folk music infuses small towns in the Ozarks, in Northwest Arkansas. Guests of Arkansas dude ranches have much to explore here.
Typical Arkansas vacation ranch activities include horseback riding, caving, and rock climbing. Searching for Native American arrowheads is also popular, as is exploring National Parks and Wilderness Areas. Unlike many states, mechanized vehicles are not allowed in any Arkansas Wilderness Area, and a lovely quiet pervades. Guests of Arkansas Dude Ranches ride horses, canoe, and hike through this wilderness, sometimes feeling as if they were the first to ever do so.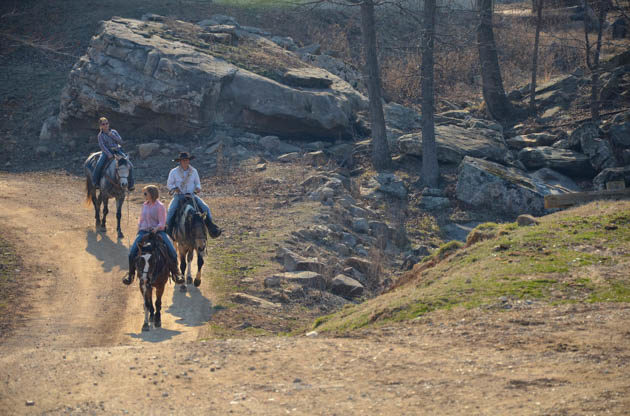 Horseshoe Canyon Guest Ranch
Near the pristine Buffalo National River wilderness near Jasper, Arkansas, and as seen nationally on HGTV, ESPN2, Midwest Living, Ladies Home Journal, and Family Fun magazines, Horseshoe Canyon Ranch is owned and operated by the Johnson family, HCR offers guests a "Western experience with Southern Hospitality."