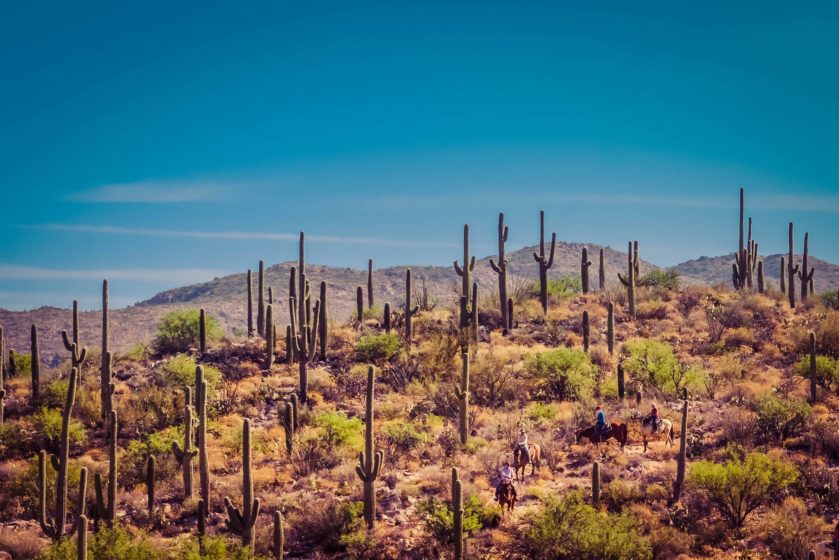 Copper, cattle, cotton, citrus, and climate. These "Five C's" were the core of Arizona's economy when it first became a state. And you will quickly see how they remain essential today. Climate and cattle are at the heart of Arizona Dude Ranches, each one situated on several thousand acres of land, just waiting for you to ride and explore.
The vast wilderness and diversity of the land creates a host of possibilities for outdoor recreation. Arizona is a mountainous and rugged state home to the world's largest contiguous ponderosa pine forest. Many mountain ranges exceed 9,000 feet in elevation. The Sonoran Desert is the only place where the Saguaro Cactus grows in the wild. The Saguaro National forest is definitely something you want to see. While, Arizona is certainly known for the Grand Canyon, Monument Valley, and The Painted Desert, what most folks don't know, is that less than 20% of the state has actually been developed. 80% of the state is comprised of the most extraordinary landscapes, ranch land, and wilderness – making it the perfect state for your dude ranch vacation.
Horseback riding is absolutely the best way to experience Arizona, followed by hiking, climbing, mountain biking, and jeep touring. Typical activities on Arizona guest ranches include; bird watching, nature programs, rock climbing, shooting, panning for gold, jeep tours, roping lessons, and team penning. There is something for the entire family.
Your Arizona ranch vacation is an authentic ranch experience. Guests may ride over grasslands, through Saguaro studded desert and along mountain trails morning, afternoon, and into the sunset. Sunsets in Arizona are not to be missed – they are the most dramatic and breathtaking in the country. A sunny day in the saddle, a brilliant sunset with a margarita on the patio, and a hearty home-cooked dinner will make your Arizona dude ranch day complete.
Ranches in Arizona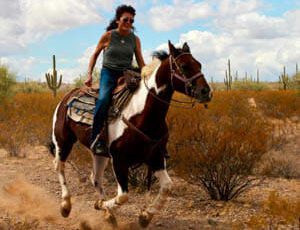 Tucson, Arizona
Guest Capacity: 115
Open: Year Round