Dude Ranch Wedding Venues
For celebrations large and small dude ranch weddings are a picture perfect setting for a destination wedding venue. The Dude Ranchers' Association has the ultimate list of dude ranches for Western ranch weddings. Whether you are looking for a quaint rustic barn wedding or a classy, destination wedding resort you'll find it here.
And, you can have a winter or summer wedding in most states across the West. These accredited ranches will take care of all the details – the rehearsal dinner, ceremony, reception and best of all- provide a vacation for your guests. You set the theme and bring the romance for your wedding and professional hosts and caterers will bring the bride and groom's wedding dreams to reality.
Dude Ranches Offering a Great Wedding Venue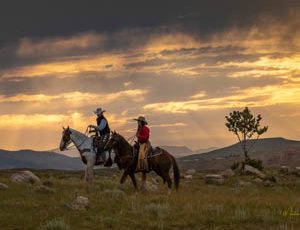 Dubois, Wyoming
Guest Capacity: 45
Open: June - September