Rainbow Trout Ranch

| Antonito, Colorado
Minimum: $320
Maximum: $425
Email: info@rainbowtroutranch.com
Phone: +1 719-376-2440
Location:

Antonito, Colorado

Closest Airport: CO: Alamosa (1 hr), Durango (2.5 hrs), Colorado Springs (3.5 hrs), Denver (5 hrs). NM: Santa Fe (2 hrs), Albuquerque (3.5 hrs).
Elevation: 9011 feet
Guest Capacity: 60
Open: Last Sunday in May to last full week in September
Check In/Out: 3:30 pm - 9:30 am
Minimum Stay: 3 nights. Sunday to Sunday mid-May to later August.
Check Availability
About Rainbow Trout Ranch
Rainbow Trout Ranch is the perfect way to combine Colorado Rockies splendor with northern New Mexico enchantment. We are located at 9000 ft in the spectacular Conejos River Valley with the mountains soaring above us and the some of the best fishing in Colorado running right through the ranch. We promote the western lifestyle and traditions and we welcome guests to our giant and historic lodge, the true heart of the ranch. Our cabins are unique in their use of aspen and sub-alpine white fir logs and each is quaintly decorated and fronted by a covered porch where you can relax with some of the best coffee you'll ever drink and enjoy a view that falls away to the far side of the valley.
While many things combine to make Rainbow Trout the perfect ranch for a western vacation, we feel that our superb string of well over a hundred horses is the true soul. We own all our horses and we also breed, raise and train Quarter Horses--so there are always foals for folks to enjoy when they come. Our guest horses are largely Quarter Horse based and we are very proud of each one and we take all care to match each of our guests with the right horse. While all our horses are excellent, our kids' horses are extra special and they have carefully carried many children countless miles, teaching as they go and leaving them with memories that last a lifetime. Our wranglers will instruct you from any level, or merely guide more experienced riders on some of our fantastic advanced rides. We offer a variety of rides each day including mosey (strictly walking for those who prefer to take it easy), loping, bushwhacking, all-day rides, team sorting (working cattle in the arena), and a fun ranch rodeo where everyone can participate during the main summer months, plus we go out of our way to accommodate requests. The scenery is spectacular and our goal is to make this the best riding experience you and your family have ever had.
The first class fishing will also contribute to making this your best vacation ever. We have over a mile and a half of private fishing river teeming with mainly rainbows, but also brook and brown trout. We encourage catch and release although we are always happy to prepare your fish for any meal you like. We highly encourage fly-fishing but we do have bait and spinner rods available as well as the fly-fishing equipment. There is nothing like the thrill of catching that first rainbow!
Then there are the very popular children's programs and the teen program. Each program (3-5, 6-11, and 12-17) has a counselor and varied activities and options offered each day. All programs are optional but they have proven to be a wonderful way for children and teens to enjoy their guest ranch vacation even more. We love children and we go that extra mile to make sure they have a great time riding, fishing, swimming, going on lunch rides, cooking hot dogs and s'mores, howling like coyotes on their own horse-drawn hayride and learning about horses and cowboys. The teen program is less structured than the two children's programs, and teens participate in the planning of each day's activities with options ranging from teen rides, mountain frisbee golf, hiking, trapshooting/archery and more. It is wonderful to watch teens evolve during the week--many of them arrive with an "I don't want to be here" attitude but by week's end they are hugging all their new friends and making plans to come back. We do have an old-fashioned Game Room (no electronics allowed!) as well as a basketball court, pool and acres of rocks and trees and outdoors to explore.
Evenings vary from dancing in the vast East Room of the lodge, to a horse-drawn hayride across the horse pasture while the sinking sun bathes the mountains and cliffs, or an evening with Will Dudley, authentic cowboy singer who has entertained our guests on Wednesdays for many years, to our adult candlelight dinner (teens and kids have their own fun plans) and finally the wrap-up singalong, rodeo ribbons presentation and general talent show on Saturdays.
Of course at the end of an RTR day, you may prefer to soak in the hot tub and reflect, or take a Rocky Mountain starlight stroll, or just sit by a crackling aspen log fire. We want you to relax, body, mind and soul, and this is the place to do it! By the way, we always say that RTR is particularly great for Moms and Mr. Moms as there is no cooking, cleaning or worrying about everyone having a good time.
There is plenty of "me-time" to read, or walk, to take a ride, go on a hike, or lie by the heated outdoor pool, or play a game of horseshoes by the river at an evening cookout. There is plenty more of course; please call so we can tell you about it. Or check out our main website. There are plenty of fun arrival options too for adventures before or after the ranch! For example, we are the closest ranch to fascinating Santa Fe, and yet set at 9000ft in the Colorado Rockies. Our location and climate are quite simply, ideal.
We are family owned and operated and we look forward to sharing the magic of Rainbow Trout with you.
Happy Trails!
Doug, Linda, David and Jane Van Berkum
Come live the west with us, RTR style...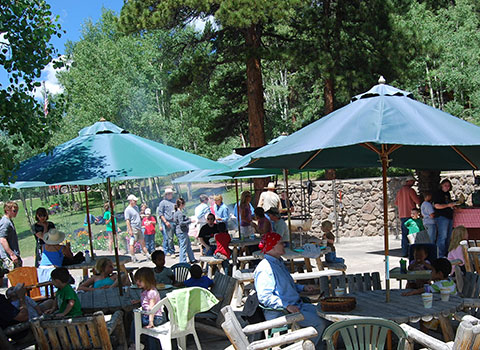 Ranch Dining:
Our cuisine excels with fresh baked breads, turkey, pork, chicken and steak, great side dishes, salads, and of course, desserts that make a perfect meal even better. Vegetarians and special diets are welcome with advance notice. BYOB policy which we can help you with. Best coffee in the west always available in the lodge plus hot chocolate and teas, and healthy snacks.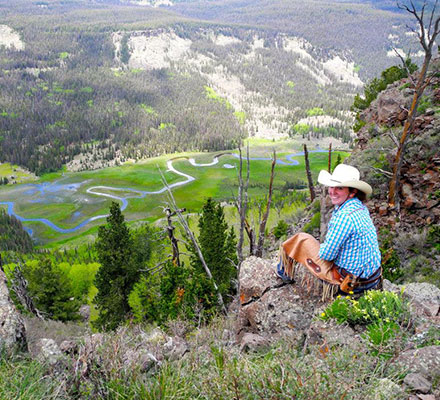 Ranch Activities:
Exceptional riding includes wonderful and varied trail rides, all-day rides, team sorting (working cattle in the arena) and a ranch rodeo during the main summer months. Horses are superb and wranglers will instruct as needed. Scenery is breathtaking. Excellent fly-fishing on private stretch of Conejos River which runs through the ranch. Guides on staff -- equipment available. Also trapshooting, hiking, swimming, mountain frisbee golf, whitewater rafting out of Taos, NM, scenic railroad nearby. Fun evening activities. Great kids and teens programs! Come share the magic!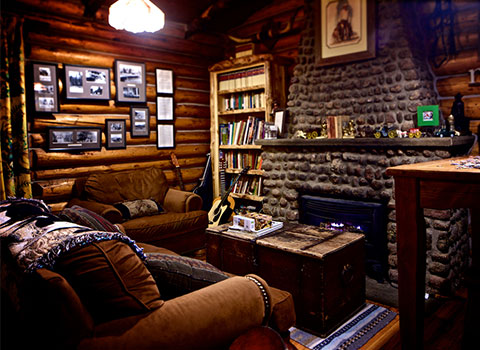 Ranch Lodging:
Accommodations in individual log cabins of varying sizes. Smaller cabins consist of two bedrooms, bathroom and can sleep up to four. All have living room/fireplace areas. Our larger cabins vary and can sleep up to 6, 7 & 8 and each has two bathrooms and a living room/fireplace area. All our cabins are very comfortable and quaintly decorated with a western theme, and all have nice porches with lovely views.
Activities:
- Bird Watching
- Cattle work
- Fishing/Guided
- Hiking
- River Rafting
- Archery/Shooting Sports
- Childrens Program(3-5)
- Childrens Program(6-8)
- Childrens Program(9-12)
- Childrens Program(13-17)
Food:
- Ranch/Western
- Special Diets Accommodated
Riding:
- All day ride
- Half day rides
- Advanced/Fast rides
- Team penning
- Pony Rides
- Beginner rides
- Trail Riding 6+
Dates Open:
- May
- June
- July
- August
- September
Length of Stay:
- 3 nights
- 4 nights
- 5 nights
- 6 nights
- 7 nights
Lodging and Amenities:
- Airport Shuttle
- Cabins
- Internet/WiFi
- Hot tub
- Game Room
- Swimming pool
- Horse Safety Program
Specialty Events/Weeks:
- Adult Only Weeks
- Fly Fishing Retreats
- Horse Clinics
- Girlfriend Getaways
- Pack Trips
Cancellation Policy:
To hold reservations, we request a deposit of $500 per person. This is refundable (less a 10% handling charge) up to 60 days in advance of arrival. Less than 60 days in advance, it is refundable (less 10%) only if we can rebook the space.
Contact the ranch
Email: info@rainbowtroutranch.com
Phone: +1 719-376-2440
Location:

Antonito, Colorado

Closest Airport: CO: Alamosa (1 hr), Durango (2.5 hrs), Colorado Springs (3.5 hrs), Denver (5 hrs). NM: Santa Fe (2 hrs), Albuquerque (3.5 hrs).