Covered Wagon Ranch

| Gallatin Gateway, Montana
Minimum: $285
Maximum: $500
Email: office@coveredwagonranch.com
Phone: +1 800-995-4237 +1 406-995-4237
Location:

Gallatin Gateway, Montana

Closest Airport: Bozeman - 60 miles away
Elevation: 6700 feet
Guest Capacity: 20
Open: June 14-September 27
Check In/Out: 3 pm (you can arrange earlier checks in every day but Sunday) and we allow guests to check in or out 7 days a week - 10 am and 7 days a week
Minimum Stay: 3 nights
Check Availability
About Covered Wagon Ranch
Four generations ago each guest arrived here at Covered Wagon Ranch by way of stagecoach and Model T. Today descendents of some of those families still come to our Montana dude ranch to experience the mythic beauty of the Old West, in a region that is very nearly the same as it was in 1925 when the guest ranch first opened.
Ours is one of the oldest continuously operating guest ranches in this canyon. Here you'll stay in a historic log cabins with their original 1920's charm, complete with wood-burning stoves, rustic wood furniture and private baths. You'll enjoy great meals and pampered attention from ranch hosts who are happy to cater to your every need. So treasured is this Montana guest ranch that it's become a tradition among families, individuals and couples over the years ~ in fact, most of our guests are return visitors or their friends and family members. We offer a unique horseback riding vacation.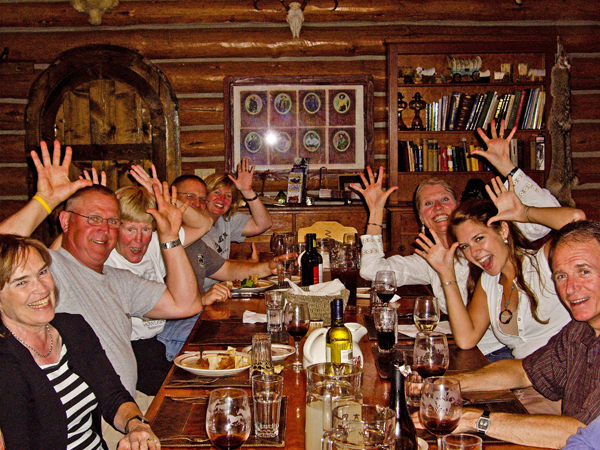 Ranch Dining:
Whether it is first thing in the morning or after dinner the coffee and cookies are always fresh. During your stay you will never go hungry as our chefs prepare great western home cooked meals. We have an ample hot and cold breakfast to order every morning, a plentiful lunch buffet, and dinner served family ranch style. Every week on Mondays we have 'blues and brews' with a Meet and Greet and on Fridays we head to the rec hall for the cook out and have 'surf and turf' over an open fire. If you have any special dietary needs just let us know and we will take care of you.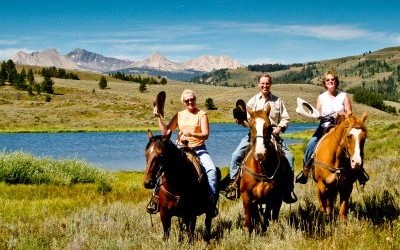 Ranch Activities:
Our guest ranch specialty is horseback riding trips into the surrounding backcountry-the Custer-Gallatin and Madison Mtn Ranges and Yellowstone National Park. We tailor each ride to your preferences and experience, but the perennial favorite is the all-day ride with unforgettable views of the Rocky Mountains and a trailside lunch. We run three trucks and trailers on a daily basis which allows you to see a lot more country horseback! You can choose fly fishing outings on world-renowned waters, rafting, mountain biking, hiking and wildlife viewing. What ever your choice, you will have the time of your life!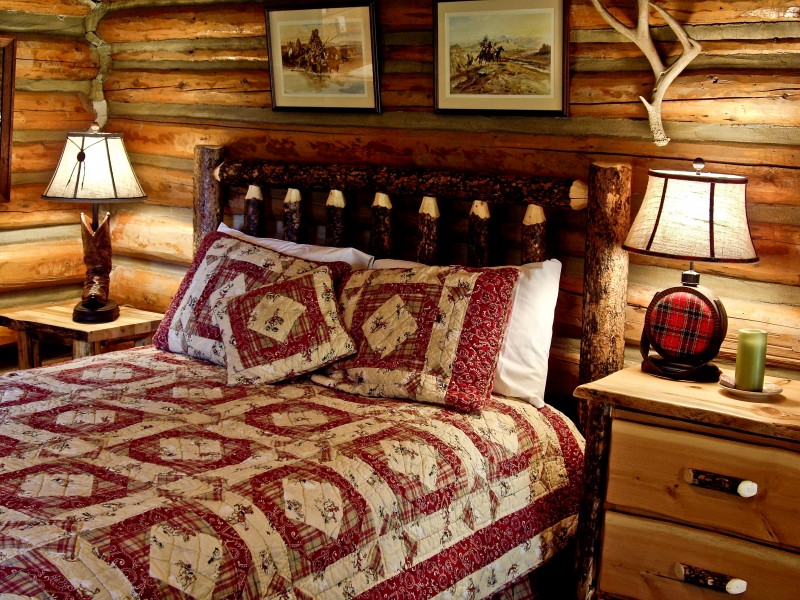 Ranch Lodging:
While staying true to the ranch's 1920's vintage heritage, we're also committed to making your stay as comfortable and enjoyable as it can be. Over the years, our ranch has retained every bit of its original charm, but has gradually gained the sweet refinement and gentility that come only to a place devoted for over four generations to its guests' comfort and pleasure. To be sure,you'll commune with your Old West longings as you relax beside the fire in your historic log cabin.
Lodging and Amenities:
- Horse Safety Program
- Cabins
- Lodge rooms
- Hot tub
- Game Room
- Fitness Center
- Wheelchair Accessible
- Internet/WiFi
- Spa Services/Massages
Activities:
- Babysitting Available
- Golf on or nearby
- Hiking
- River Rafting
Food:
- Ranch/Western
- Special Diets Accommodated
Riding:
- All day ride
- Half day rides
- Advanced/Fast rides
- Private lessons
- Pony Rides
- Beginner rides
- Trail Riding 6+
- Arena games
Dates Open:
- June
- July
- August
- September
Length of Stay:
- 3 nights
- 4 nights
- 5 nights
- 6 nights
- 7 nights
Specialty Events/Weeks:
- Adult Only Weeks
- Pack Trips
- Photography Workshops
- Singles Weeks
- Horse Clinics
- Weddings
Cancellation Policy:
Due to unforeseen circumstances, we suggest purchasing Travel Insurance through a company such as Travel Guard. If you choose to decline purchasing travel insurance below is our Cancellation Policy and will be enforced in all reservations and not excluding when you booked. • Parties of 10 or more-Balance is due 90 days prior to your stay and an automatic 15% gratuity/service charge is added on your bill. • If a reservation of less than 10 people is canceled prior to January 31st, your deposit will be refunded less a $200.00 cancellation/processing fee. • If a reservation of more than 10 people is canceled prior to January 31st, your deposit will be refunded less a $1,000.00 cancellation/processing fee. • If any reservation is cancelled after January 31st your deposit will be forfeited in full. • If any reservation is cancelled 90 days prior to your stay you will have the option to credit your deposit to the following year. • If a reservation is cancelled within a thirty-day of your stay payment in full is required and will be charged in full to your card. • Any changes you make to your reservation after booking that result in your balance being lowered a charge of $200 will be added to your bill (example lowering numbers in party or number of days). • If a check is returned, there will be a $200 fee on top of the bank fees. • Due to unexpected situations that result in our ranch being shut down such as a forest fire all money received will be transferred to the following year.
Contact the ranch
Email: office@coveredwagonranch.com
Phone: +1 800-995-4237 +1 406-995-4237
Location:

Gallatin Gateway, Montana

Closest Airport: Bozeman - 60 miles away