Dude Ranches: Wellness Destinations Perfect for Everyone!
While the term dude ranch usually brings to mind images of cowboys and cattle drives, dude ranches are actually all this and much more – especially when it comes to wellness experiences. In keeping with the belief that wellness starts from within, many DRA-accredited ranches offer a variety of rejuvenating activities and services in a lush oasis environment to give you "whole body" relief from the stress of modern life. Imagine enjoying a spa escape or time in the great outdoors with a small group, giving you the opportunity to decompress and to actually contemplate all the things that you just do not have time to on a day-to-day basis. How freeing will it be to breathe the fresh mountain air, hike to the top of a bluff to view an evening sunset, actually have time to read a book, or just sit and listen to Mother Nature? As the original all-inclusive vacation, dude ranches offer value and numerous advantages over other all-inclusive vacation options including no planning once you arrive, flexibility to customize your itinerary, and minimal additional costs once you arrive at your destination.
Choose one of the following ranches to start planning your wellness getaway today!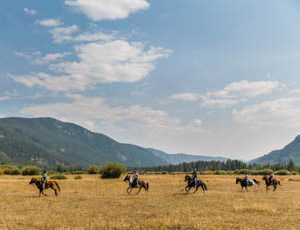 Glendevey, Colorado
Guest Capacity: 26
Open: June 1 - September 30