Easier.com 9th May 2011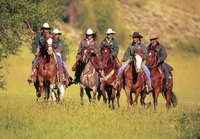 For over a hundred years
Colorado
has been welcoming visitors to experience one of the oldest
western traditions of ranching.
This legacy has been passed down from generation to generation with carefully cherished rituals that are shared with privileged visitors to the state. Over the years the
ranching holiday
experience has evolved depending on your requirements; the authentic experiences can start with a 5am wakeup call with a hard morning's work herding up the cattle, doctoring and branding; or alternatively enjoy a restful lie in before hitting the spa and tucking into the gourmet fresh lunch buffet produced by the onsite chef.  
Read More